Invisalign transparent braces are offered at Medidental Care in Astoria as a superior alternative to conventional orthodontic services. Invisalign is an alternative to traditional braces that can straighten your teeth without anyone noticing. Contact our Astoria dental office to arrange a consultation with an orthodontist if you have questions regarding Invisalign or any of our other orthodontic services. We will assess your present bite alignment, discuss your treatment goals, and develop an individual orthodontic treatment plan to give you the beautiful, healthy smile you deserve.
What is Invisalign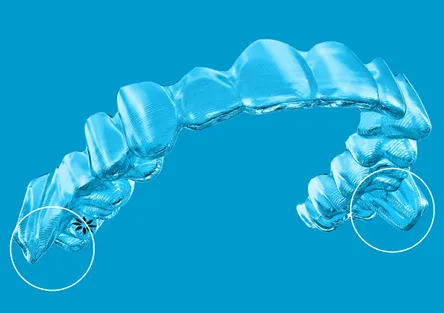 Invisalign is a revolutionary orthodontic treatment that straightens teeth using a series of clear, removable plastic aligners. Unlike traditional braces, Invisalign aligners are almost invisible, which means adult patients can undergo orthodontic treatment without feeling self-conscious about their appearance. Invisalign is becoming an increasingly popular option for those who want to achieve a straighter, more confident smile. The aligners are custom-made for each individual patient, ensuring a comfortable and effective treatment. In addition, because they are removable, patients can easily brush and floss their teeth without the hindrance of wires and brackets.
How does Invisalign work?

With Invisalign, your teeth are moved in a calculated fashion using a series of custom-made, virtually invisible plastic trays. After two weeks, patients switch to the next set of aligners in the series. The total length of treatment can be anywhere from 8 months to 18 months, with short checkups every 6 weeks to 8 weeks to make sure your grin is on track. We want to help you achieve your goals of a more symmetrical smile in the timeframe you've set
What are the benefits of Invisalign?
Because of its many advantages over conventional braces, Invisalign is rapidly gaining in popularity. For starters, it's so unobtrusive that it's a fantastic choice for people who are self-conscious about their teeth when they smile. The plastic used to make the aligners is virtually invisible, so no one will know you're straightening your teeth. Because they can be removed before eating, drinking, brushing, and flossing, Invisalign aligners facilitate maintaining healthy dental hygiene throughout treatment. Finally, the aligners are easy to use and wear since they lack the brackets and wires that might irritate the mouth's soft tissues. Overall, Invisalign provides a more refined and comfortable method of straightening teeth without sacrificing treatment efficacy
How often can do I need to wear my Invisalign?
How often Invisalign must be worn is one of the most often asked questions regarding this procedure. The answer varies according to each person's particular circumstances, but normally Invisalign must be worn for 20 to 22 hours every day. As a result, you should only remove them to
eat and brush your teeth. To guarantee that your teeth are steadily responding to the aligners and getting the desired outcomes in the shortest amount of time, it's crucial to follow this daily regimen. According to your unique requirements, your orthodontist will provide you with more specific advice.
How much does Invisalign cost?
you may be curious about the prices associated with Invisalign treatment. The price of Invisalign might differ from patient to patient due to a number of factors, including the severity of the patient's malocclusion, the patient's location, and the dentist that the patient selects. Having said that, the price of Invisalign can range anywhere from $3,000 to $7,000 on an annual basis on average. However, it is vital to keep in mind that the investment in Invisalign is an investment in your confidence, oral health, and general well-being. This should be kept in mind when making the decision to purchase Invisalign. Because of its many advantages, including its simplicity, comfort, and attractiveness, Invisalign is an investment that many people consider to be worthy.
Does Invisalign hurt?
When considering Invisalign treatment, many people wonder if they would experience any discomfort. The short answer is that Invisalign is usually not uncomfortable, though there may be some discomfort during the adjustment period. Invisalign aligners are constructed of a smooth, BPA-free plastic that fits snugly over your teeth, as opposed to the brackets and wires required by traditional braces. You should expect some discomfort while your teeth realign, but this is a sign that the treatment is doing its job and shouldn't be a cause for alarm. Pain medication such as acetaminophen or ibuprofen can be purchased without a prescription and is typically recommended by orthodontists. Many people who choose to use Invisalign to straighten their teeth report that the process is pleasant and easy.
How do I clean my Invisalign?
If you've begun using Invisalign or are thinking about it, you already know how vital it is to maintain a clean aligner. After all, you wouldn't have a picture-perfect grin without these aligners! Cleaning your Invisalign aligners is easy, but you need to do it properly to keep them from getting damaged or less effective. When washing your aligners, remember to stick to cool or lukewarm water. As a result, warping and other damage caused by heat can be avoided. You shouldn't use soaps or toothpaste on your Invisalign aligners either since they can harm the material or leave a residue. Instead, we recommend cleaning your retainer with the Invisalign cleaning solution. Keeping your Invisalign aligners clean and in good working order is essential to their effectiveness throughout your treatment.
Medidental Care is Proud to Offer 0% Interest Rate Financing for up to 24 months
Contact us for your FREE Invisalign consultation